Post by hannah on Apr 5, 2009 15:11:18 GMT -5
Name:Adonis Carley Cathen
Alias:Adonis
Age:17
Appearance: Adonis has light green eyes that when set on you can pierce if he is mad or concentrating. His blonde hair is short and suprisingly goes perfectly with his green eyes. He has fairly light skin that has a tan edge in some places. His build doesn't match his strength at all, because his figure is kind of boyish while he can practically take down someone in one punch. His face is still roundish even though he is 17.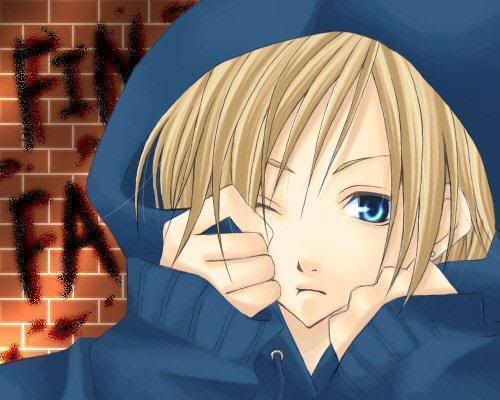 Adonis has fairly low cheeck bones so that just makes him more boyish. He wears dark clothes which compliments his light skin very well. His favorite outfit is a blue cotton hoody with dark blue sweatpants. He looks like he should be in a movie his mom said. All in all everything about him fits nicely together.
Personality: Adonis is very open when he's happy or content. It's a totally different story when he's mad because he has a bit of a temper problem. His moods actually play a big role in his power because if he is happy then his water/ice would be a color such as purple. Suprisingly Adonis is very passionate no matter his mood. For that reason most girls love him, but after a while he got used to it.
Adonis is very quiet and shy when he meets someone new so off of instinct he shies away no matter the person. He loves someone he knows closely so he thinks of them as family. When he is content he gets to know people faster. Adonis is very modest when he does something right. When he does something wrong though he comes out clean...sometimes.
Powers: Adonis can control ice and water to mold to his manipulation.
Likes:
-Chocolate
-Animals
-Dark Colors
-Kung Fu
-Holidays
-Sodas
Dislikes:
-Spiders
-Light colors
-Boats
-Video Games
Fears:
-Fire
-Snakes
History:His parent's were very worried about Adonis not because of his grades or lack of friends, but because they were afraid he would figure out his powers. Adonis's dad had water powers, but Adonis didn't know about it. They were afraid because he was getting very curious. One day his mom talked to his dad when Adonis was asleep. She convinced his dad to tell him of his powers.
The next day was Adonis's birthday. He was turning 9 and was very excited of his ocean themed birthday. Obviously though his father was not going to tell him today. During the birthday his best friend Alex gave him a pet fox his favorite animal. Right after that another person at the party had a glass of water, but Adonis was laughing so hard that the water flew into the air.
Then it turned purple then red because Adonis was mad the reason was he saw his dads grave expression as he walked away. So this is what they were hiding. After his birthday party which everyone went home after that he talked to his mom and dad. They told him about Aubrey and everything about his family.
That is how he ended up here.
Family: Esree (Esra), Cecile,o Aubrey
Mother: Cecile
Father: Aubrey
Siblings: Esree (Esra)